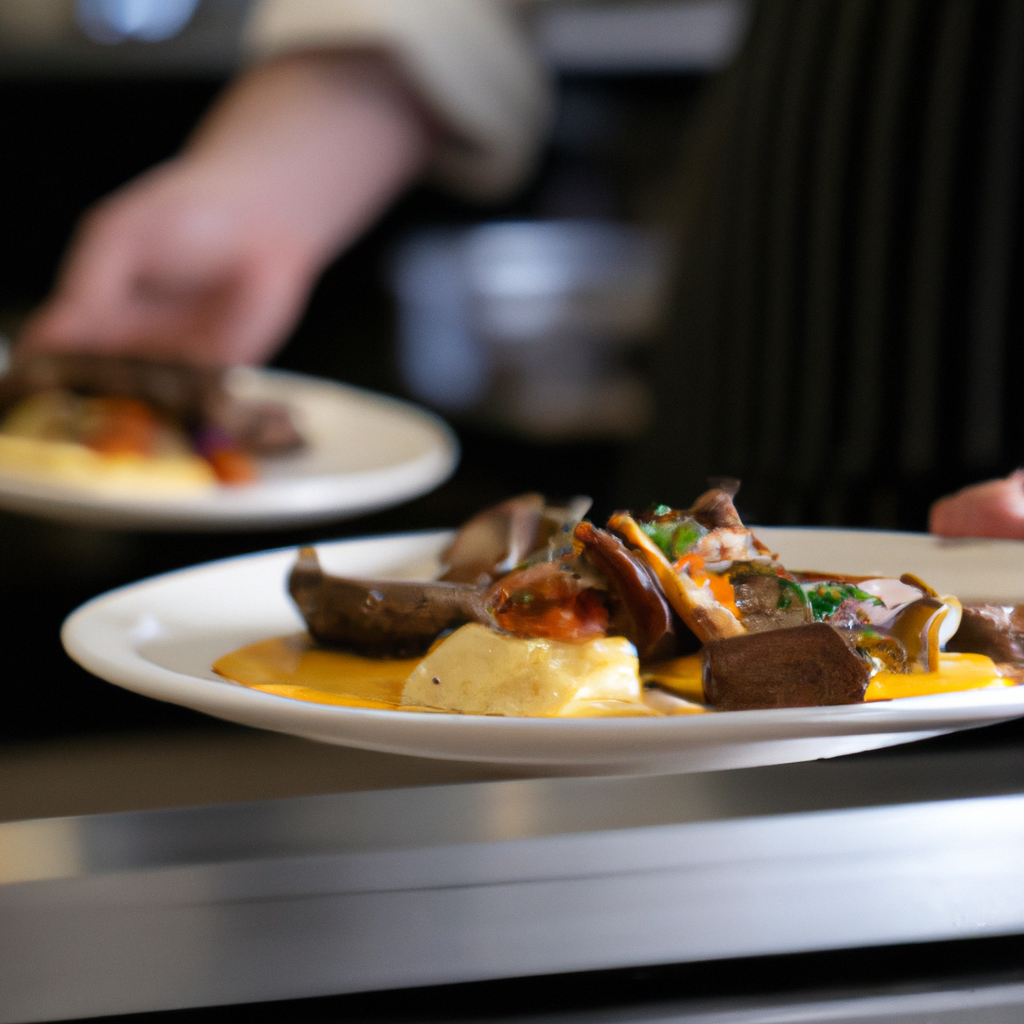 Gastropub cuisine has changed drastically – moving away from pub staples like fish and chips, shepherd's pie, and bangers and mash. Now, gastropubs offer a range of upscale dishes, such as charcuterie boards, gourmet burgers, artisan pizzas, and creative small plates.
These dishes often use seasonal ingredients sourced locally, and the presentation is elevated to give a unique experience.
It's no surprise gastropub cuisine is so popular, as it focuses on quality, inventive methods, and unique flavor combinations.
Pro Tip: Give classic pub dishes a gourmet edge by adding unique ingredients and flavor combos!
The Emergence of Gastropubs
Gastropub – a unique combination of a gastronomic restaurant and a traditional pub. It was first used in 1991 in the UK. Since then, its popularity has been increasing. We look at the evolution of gastropub cuisine and its effect on the restaurant world.
Historical background of Gastropubs
Gastropubs appeared in the UK in the 1990s. People were no longer going to pubs for socializing. Wine bars and other nightlife options had taken their place. To compete, pub owners began offering high-quality food with fresh, locally sourced ingredients. Menus featured creative takes on traditional pub fare. This trend caught on and gastropubs evolved into sophisticated dining destinations. Some even earned Michelin stars and other awards. Today, gastropubs can be found all over the UK and abroad. They serve everything from fancy fish and chips to inventive vegetarian dishes.
Definition of Gastropub cuisine
Gastropub cuisine is noted for its high-quality, refined meals. It became popular in the 1990s, starting in London and has since spread to other countries. It uses local and seasonal ingredients and combines different cooking styles. Popular gastropub dishes include truffle fries, artisanal pizzas, gourmet burgers, and creative small plates.
Plus, many gastropubs emphasize craft beer and cocktails to go with the food. All of this combines to create a welcoming and relaxed dining experience.
Examples of Gastropub restaurants
Gastropubs are a mix of classic pub vibes and top-notch food and drinks, making them a hit with millennials and middle-agers.
Check out these gastropub restaurants:
The Spotted Pig (New York City, USA). It's an OG gastropub in West Village, NYC. Burger, devilled eggs, fries – they've got it all!
The Jugged Hare (London, UK). In Barbican, London, this pub is known for its game and craft beers. Yum!
The Stag's Head (Dublin, Ireland). This Dublin gastropub has great pints and food to match. Fish & chips, Shepherd's pie – you name it!
The Blind Pig (Montecito, USA). For a luxurious gastropub experience, The Blind Pig has a farm-to-table menu and hand-crafted cocktails.
Gastropubs are transforming pub culture, mixing sophistication and tradition.
The Trendsetting Impact of Gastropub Cuisine
Gastropub cuisine has been a trend-maker in the restaurant industry for decades. It has brought us flavors from every corner of the globe. We now have the chance to explore dishes and tastes that we might have never tried before. Its reach is clear in the way restaurants and chefs have changed their menus to include gastropub cooking and ingredients. Let's discover the trendsetting power of gastropub cuisine!
Influential Chefs in Gastropub Cuisine
Gastropub cuisine has been transforming! Influential chefs have taken it to the next level. Let's meet some of the most renowned gastropub chefs:
April Bloomfield – Famous for The Spotted Pig in NYC, she popularized gastropub cuisine in the U.S.
Tom Kerridge – This pioneer of modern British cooking is praised for his menus at The Hand & Flowers.
Heston Blumenthal – He's well-known for his creative cooking methods at The Hinds Head.
Gordon Ramsay – His Bread Street Kitchen in London is a prime example of refined gastropub cuisine.
These chefs have made gastropub cuisine a sophisticated, sought-after experience that foodies around the world adore!
The shift towards locally-sourced and sustainable ingredients
Gastropubs are innovating the culinary world by using locally-sourced and sustainable ingredients.
Consumers are looking for restaurants that prioritize these ethical ingredients.
Gastropubs are providing high-quality meals by sourcing from local farms and using sustainable farming practices.
This helps reduce the carbon footprint of the food industry and support sustainable agriculture.
Moreover, this shift is revolutionizing gastronomy and inspiring a new wave of chefs passionate about sustainability and innovation.
Cross-cultural Fusion in Gastropub Eateries
Gastropub food is a movement that has changed eateries around the world. It has introduced exciting new flavors to the culinary scene.
Gastropubs have gone beyond typical pub food, by combining flavors from various cultures. Examples of this fusion cuisine include:
Korean BBQ wings – marinated in spicy sauce and served with kimchi slaw.
Mexican poutine – topped with pork, queso fresco, and chipotle-lime sour cream.
Thai burger – a beef burger topped with peanut sauce, pickled vegetables, and cilantro.
Gastropubs have merged the comfort of a pub with the diversity of new flavors. This has created a great dining experience!
Key Characteristics of Gastropub Cuisine
Gastropub cuisine is a unique blend. It fuses a pub and a restaurant. The key features include the use of seasonal ingredients. Quality and variety are essential too. Let's explore more of the gastropub cuisine.
Emphasis on quality ingredients and preparation techniques
Gastropub cuisine emphasizes quality ingredients and preparation techniques. It puts a modern spin on classic pub meals by using fresh, local ingredients. Chefs often use sous vide, brining and smoking to enhance flavor and tenderness. They also incorporate unconventional ingredients and flavors to make unique dishes. In short, gastropub cuisine is all about elevating pub food.
Pro tip: Ask your server for recommendations on dishes that showcase the restaurant's commitment to quality.
Inventive dishes inspired by both classic and contemporary culinary traditions
Gastropub cuisine is a modern culinary tradition that blends old and new. It's evolved over the years, and has some key characteristics. For example, ingredients are fresh and local. There are playful twists on classic dishes, using unusual ingredients and flavors. The food is hearty, comforting, and yummy – presentation isn't the main focus.
Cooking techniques like grilling, smoking, and roasting are used to bring out the natural flavors. Craft beer and wine pairings complete the experience. If you want classic and modern cooking together, gastropub cuisine is a great option.
Pairing of craft beers and cocktails with Gastropub dishes
Craft beers and cocktails are a great match for the unique flavors of gastropub cuisine. This type of food combines traditional pub fare with modern gastronomy.
Characteristics of gastropub cuisine:
Local, top quality ingredients
Creative spins on classic recipes
Mix of international flavors and techniques
Focus on looks and presentation
When pairing craft beers and cocktails with a gastropub meal, it's important to think about both the beverage and dish. Consider the flavors and ingredients to create a balanced taste.
Pro Tip: Have fun experimenting with new combinations and exploring the wonderful world of gastropub cuisine.
Future Developments in Gastropub cuisine
Gastropub cuisine has been around for two decades. During this time, there have been many changes and progressions. Chefs have become more imaginative with recipes and methods, to bring out the tastiest flavors. Molecular gastronomy has also been employed to modernize classic dishes. But, what new ideas and techniques will come in the future of gastropub cuisine? This article will break down the current trends and speculate on what's to come.
The growing popularity of vegan and plant-based options in Gastropubs
Vegan and plant-based options are becoming ever more popular in gastropubs. People wanting healthy, sustainable alternatives to conventional pub grub are driving this trend.
Popular vegan and plant-based gastropub dishes include:
Vegetable-based sliders
Cauliflower wings
Beyond Meat or Impossible Burgers
Tofu dishes
Meatless meatball subs
Gastropubs are also developing unique takes on plant-based fare to cater to all sorts of tastes. So, expect to see more inventive, tasty vegan and plant-based options in the future!
Pro tip: Ask the staff for recommendations if you're looking for vegan or plant-based options. They might have some great dishes not listed on the menu!
Tech advancements impacting Gastropub dining
Technology is revolutionizing gastropubs! Here are some advancements:
Contactless menus. Guests can access a digital menu from their own devices, without close contact with restaurant staff.
AR menus. Customers can view the menu and 3D visualize dishes in detail.
Pre-ordering platforms. This helps guests to order and pay in advance, reducing wait times and lost revenue.
Robotic chefs. Automation ensures perfect preparation of menu items, every time!
These tech advancements are pushing gastropub cuisine forward.
The Reimagining of Gastropub Style Pop-up Restaurants
Gastropub dining has come a long way. From beer and burger joints to elevated cuisine. Pop-up restaurants are a key part of this transformation. Bringing new menus and places to explore.
The future of gastropub food is full of experimentation. Plus, a focus on sustainability. Pop-up restaurants let chefs try out new dishes and concepts without too much risk. They can get creative with comfort food and flavor combinations. And, sustainability is a priority too – sourcing local and seasonal produce, plus reducing waste.
Gastropub cuisine is sure to bring exciting new flavors and experiences for foodies and beer-lovers.
Frequently Asked Questions
1. What is Gastropub cuisine?
Gastropub cuisine refers to a genre of food that combines the traditional ingredients and flavors of pub fare with the innovative techniques and presentations of fine dining.
2. How has Gastropub cuisine evolved over time?
Gastropub cuisine has evolved from simple, hearty dishes like fish and chips and burgers to more sophisticated offerings like braised short ribs, hand-crafted charcuterie, and seasonal salads featuring locally sourced ingredients.
3. What are some popular dishes in Gastropub cuisine?
Some popular dishes in Gastropub cuisine include shrimp and grits, artisanal pizzas, poutine, truffle mac and cheese, and beer-braised beef brisket.
4. What sets Gastropub cuisine apart from other types of cuisine?
Gastropub cuisine is distinct from other types of cuisine because it combines the laid-back, casual atmosphere of a pub with the culinary skills and elevated ingredients of a high-end restaurant.
5. What is the role of beer in Gastropub cuisine?
Beer plays a central role in Gastropub cuisine, both as a beverage and as an ingredient in many dishes. Gastropubs often serve a wide variety of craft beers and beers are often incorporated into dishes in creative ways, such as beer-battered fish and chips or beer-braised pork shoulder.
6. Can Gastropub cuisine be considered healthy?
While Gastropub cuisine may not always be considered healthy, many Gastropubs offer options for vegetarians, vegans, and those with dietary restrictions. Additionally, many Gastropubs focus on using fresh, locally sourced ingredients which can provide nutritional benefits.