Good Riddance, 2016: Where to Celebrate the New Year
In Miami Food Pug
2017 is almost here, and it can't come soon enough. It's been a crazy year in our country and abroad: an insane election, notable celebrity deaths and a ton of other events that are memorable for all the wrong reasons. Odds are that you need a drink (or five).
Where are you celebrating the end of 2016? If you still need plans to ring in the New Year, check out our extensive lineup of local events below. Details are subject to change, so make sure to contact the venue beforehand. Happy New Year!
PB Station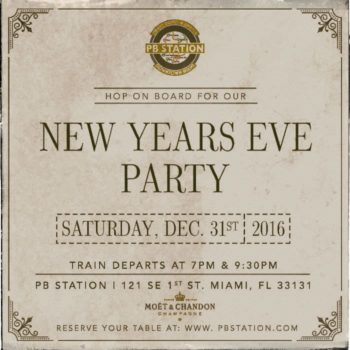 PB Station's exclusive NYE menu has been carefully crafted by one of the greatest talents in South Florida, Chef Jose Mendin. Featuring the finest ingredients and flavors from the Americas, the Miami chef has worked closely with Executive Chef Guillermo Concha to produce an extensive NYE menu that will have you welcoming in 2017 with a bang.  The first of two sittings will commence at 7 p.m. and will be accompanied with bottle of Moët & Chandon Imperial champagne between two. The later sitting, at 9:30 p.m. will treat you to a wine pairing and a celebratory bottle of Vintage Moët & Chandon champagne between two. For reservations, please call 305.420.2205.
7:00 p.m.:  $175 per person with bottle of Moët & Chandon Imperial Champagne (per two people)
9:30 p.m.:  $225 per person with wine pairing and bottle of Vintage Moët & Chandon (per two people) VIP access to Pawn Broker.